We caught a break in the weather and the morning air was cool, dry and crisp. The workout was easier than normal and we both could have run forever. I also suspect the old farmer was not alarmed by the Pilates this time. Anyway, after our workout, we set out for our last day in Washington, DC.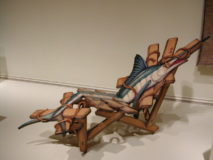 Since we started later in the day, we only had time for the Renwick Gallery of American Art and the Phillips Collection. Both were very interesting. The Renwick had some excellent examples of American arts and crafts that we enjoyed very much. Time slipped by and we soon had to return to the coach.
Upon return, we prepared an excellent dinner of fried catfish and watched a movie.
---
Contemporary note: For readers wondering how we moved around the Washington DC area, there was a Metro station not far from the Haymarket campground. At that time, the station was literally the end of the line. We left the Jeep at the parking garage and blended in with the rest of the commuters. It worked out well and the ride gave us time to reflect on the day's activities.