We woke to another sunny day in Indio, California.
Today was the last day of the rally and rigs started pulling out as soon as the sun came up. Since we were located at the front gate, for most of the morning we were under a great cloud of dust. It can't hurt us any more, the rig is covered with mud from our Escape From Ventura episode.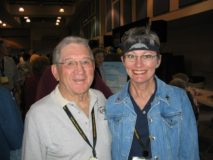 We needed to hang around until 11:00 AM, which is our appointment to have the coach weighed. The process is simple: you pull into the level area where the service is set up, drive onto four scales – one at each wheel position and get your weight recorded. The big moment arrived and we were happy to find we were both underweight and the load was well balanced. In fact, there was less than 75 pounds difference between the real wheel positions, which is about as close as you can get it. Bottom line: we can add over 2,000 pounds of weight and still be within specification. This includes a full water, fuel and propane tank. The report was good news and a great relief.
The RV park is almost within walking distance of the rally and the drive took only a few minutes. We quickly set up and the first order of business was blasting the mud off the coach wheels. It was almost two inches deep in places. The process left one hell of a mess on the asphalt. Later during our stay, I'll see about removing the mud from the inside rims.
The park has full hookups and cable TV. What luxury. After our Ventura experience and FMCA rally, we're ready for some easy living for a while. The three pools, kept at a tepid 85 degrees, were put to good use. January 16 and we're floating in a pool. Life is good.
We went to bed early, anticipating a busy day tomorrow.