We woke early after a quiet night and got into our workout. There is a footpath at one end of the campground where the adventurous family can take a group walk into the wilds of Pennsylvania. This "outdoor experience" venue was perfect for trailrunning. However, most of the campground roads are a lot steeper than they appear and running here is a real challenge. I have no idea how the permanent residents here manage in winter.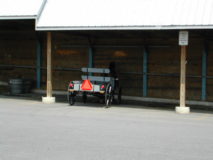 After our workout, we headed for the town of Lancaster to pick up e-mails and groceries. At the local Walmart Supercenter, we discovered a sizable shelter in the parking lot to accommodate horses and buggies. I'll try to get a picture of this.
Lancaster, the county seat, is a typical weather beaten east coast town with narrow tree-lined streets and brick buildings. We drove through the center of town looking for the Borders Books, but eventually found it among the other chain stores at the new shopping center along the interstate. We eventually returned to the coach, ate dinner and watched a movie.