The past two days will always be thought of as our Winnemucca trip.
Winnemucca is a small town in northern Nevada in the middle of the state and about 90 miles south of the Oregon border. For the curious, you can find it at the intersection of Interstate 80 and where US 95 heads north to Boise, Idaho. The town is just about as remote a place as you can find in the contiguous 48 states.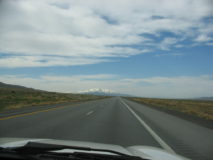 I always wondered what was in this part of Nevada and now I know. To the casual observer, there is nothing here. In fact, parts of the drive made West Texas look like the Garden of Eden. This time of year the snowcapped mountains and endless views are dramatic, but I'm sure in the summer the region is a furnace. It seems like the only economic activity out here are a few scattered mines and a few head of cattle. There is a good reason that settlers passing through this area didn't bother to stop on their way to California and Oregon.
About the only thing interesting was the history. Immigrants passed through Winnemucca on their way west. They generally followed the Humboldt river until it dries up at the edge of a huge dry lakebed. This dry lake is a 40 mile long by 40 mile wide barrier the settlers had to cross. In the comfort of a modern automobile, crossing this area was tedious. I can't imagine how hard it would be to walk across this wasteland. At the eastern edge of this area, the settlers could either head west towards Reno or south to Fallon. Either route was dry and dangerous. In summer, movement was only possible at night. On our return trip, the winds howled across this open area kicking up clouds of dust and blasting us with gravel. For three hours it was a scene from Lawrence of Arabia. We were glad to get back to the coach.
In all fairness, Winnemucca is a nice town in a remote area. The folks there were friendly, the town was clean and we had an outstanding Basque dinner at one of the local restaurants. It was more food than we could possibly eat. Overall, Winnemucca is a nice place, but not for us. I'm glad we made the trip; I know know what is there (nothing) and there is no need to ever go back.