We got up early, real early, and hit the road by 8:30. We found out later it was actually 7:30; but more about that later.
Today was the day to show up at the Monaco plant to take care of some warranty work. We heard the warranty facility had places to hook up, but the spaces were on a first-come, first-served basis. Jeanne had arranged a very short drive for us, about 75 miles, so we would show up early.
The drive to Elkhart was a straight shot along a good highway through farms and wooded areas. Along the way, we noticed some of the time/temperature signs at various businesses were one hour slow. Obviously, the signs had never been set for daylight savings time and feeling certain the bumpkins couldn't figure it out, we continued on.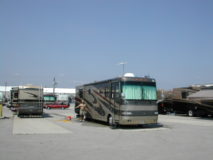 We arrived around 10:00 AM. The facility has a great parking area complete with cement slabs, water and power hookups. We got about setting up and meeting some of the other Monaco coach owners. Not wanting to waste a beautiful day, Jeanne cleaned up on the inside while I got busy on the outside with the bucket and brush. Four hours later the coach was as clean as the day it was delivered. Getting hungry, we left the lot to look for something to eat.
Elkhart, Indiana is a no-nonsense blue-collar town. Clearly, the automotive industry dominates local economy. The town is full of motors, wheels and axels. Driving around we noticed several restored cars, motorcycles, specialty vehicles, trucks and even some vehicles we weren't quite sure about. We also noticed the clocks in this town were an hour behind. Hmmmmm. Getting suspicious, we decided to investigate. According to the map, Indiana is in the eastern time zone. So, what gives with the clocks??
Without exception, all the locals all had the same incorrect time. Finally, the light goes on. Although Indiana is part of the eastern time zone, the state does not recognize daylight savings. Mystery solved; maybe the locals ain't so dumb after all. By leaving the last campground at 8:30, we in fact left at 7:30, which was a whole hour before quiet time ended. We sure felt bad about waking everyone up, especially the teen girls sleeping in the tent less than 25 feet from the coach exhaust. We're lucky they didn't come after us.
Since the service writers show up at 6:30 AM, we closed up the coach and went to bed early.