The morning was clear and cold and it looks like the rain will hold off a day or so.
We selected last night's campsite because it is right next to the fairgrounds where the rally will be held. The literature we received advised us to arrive with the water tank full and the waste tanks empty. So before pulling out, I filled to fresh water tank until the overflow tube discharged water under the coach. Regular readers of this triplog will recall the water debacle in Buffalo, New York, when I forgot about filling the tank and flooded the campsite. This time, a little water overflowed and it was on purpose. We pulled out around 9:00 AM.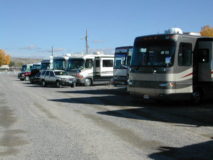 At about one mile, the drive to the fairgrounds was our shortest trip on record. After checking in, we were escorted to our site and assisted with parking. In a place as small as Farmington, New Mexico, we expected about 150 motorhomes but were surprised to find over 750 showed up for the Rally. Despite the large crowd, everyone had electrical and water hookups. For a fee, the 'Honey Truck' will come by to drain the gray and black tanks. Overall, the organizers expertly handled the steady stream of arriving motorhomes.
This was the arrival day and not much was officially scheduled and most of the afternoon was mostly spent checking in and walking around. The only seminar we attended introduced members to the FMCA organizational structure from local chapters to the national organization. The organization is bigger than we thought.
The weather was still warm, so I took the opportunity to do the workout and run. The weight and Pilates went o.k., but at 5,300 feet I had to cut the running short. We're becoming concerned that our distance will suffer when we return to lower altitudes.
At 7:00 PM, there was a welcoming meeting that included a demonstration of traditional song and dance by local Indian tribes. The performers were very talented and the demonstration was very much enjoyed by the crowd.
The walk back to the coach was cold, so we wisely piled on the covers before going to bed.