We got lucky with a break in the weather and woke to a beautiful morning with plenty of sunshine, puffy clouds and a light breeze. Perfect weather for travel.
With all the preparation during the past few days, we were ready to roll. Despite the coach sitting for over a month, the motor immediately kicked over and the beast came to life. The suspension airbags filled, the levelers were raised, slides were pulled in and utilities disconnected. Jeanne kept an eye on obstacles while the coach was moved to the hook-up area. We attached the Jeep to the tow bar and did a brake check. After one last walk-around, we were on our way. It was sad leaving family and friends, but life moves on.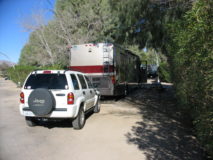 Our destination was Barstow, California, which is about half way to Las Vegas. The route took us due east along highway 126, then briefly south on I-5. Turning east again onto highway 14, the road slowly climbs out of the coastal mountain ranges into the high desert around Palmdale and Lancaster. Once reaching Lancaster, we keep heading due east through the desert until we turn north on I-15 heading towards Las Vegas.
Any TV viewer would recognize this area as the background for many movies, TV shows and commercials. The traveler passes through miles of brush, sand, rock and Joshua trees. You don't want to venture too far off the highway, since almost everything around will either stick, sting or bite. Such is the environment around the small town of Barstow, California.
Barstow is one of the places you generally want to avoid. Situated in the California desert, it can be freezing in winter, blistering hot in summer and the wind can blow hard enough to blast your car with sand and gravel. Barstow has three things going for it: The intersection of I-15 and I-40, a gritty mining industry and miles of open land where the military conducts war games and tests equipment under harsh desert conditions. The only reason we stayed in Barstow was to avoid the KOA campground in Victorville. Readers of this triplog may remember the Victorville KOA was not friendly to big rigs.
We pulled in around 1:30 and set up for the night without unhooking the Jeep. We call this the GO position. The rest of the day was spent quietly enjoying the warm sunshine and dry climate. In fact, the dry climate is the first thing you notice. Towels dry in a few minutes, sponges are rock hard and you quickly run low on soft drinks. What a change from our tropical South Florida experience!
Overall, despite leaving family and friends behind, it was good to be on the road again. We are imbued with the illusion that we are back in control of our lives.