The past few days were spent running errands and visiting with family.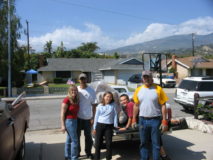 As we were heading south to Southern California, Andy and Dannette let us know they wanted to buy the sofa and love seat we had in storage. This worked out great, since we had to get into the storage area anyway to swap mattresses. Setting aside an afternoon, Andy came by with the pickup truck and off we went. After 90 minutes of lifting, pushing, shoving and rearranging, the sofas were loaded and the mattress was securely tied to the top of the Jeep. As a bonus, now there is plenty of room to move around in the storage space. Hopefully, we won't need the space much longer.
Another afternoon was spent completing the renewal for our Florida Concealed Carry Permits. The permit in not cheap. The application fee is $107, the passport photos are $12, the fingerprint fee is $15 and the notary fee is $10. First-time applicants must take a class, which cost us $65 five years ago. Anyway, we finally pulled it together and mailed it off. Hopefully, our renewals will arrive in about three months.
The birthdays for Andy and Heather are just a few days apart and happen to coincide with our visit. For Heather's birthday, the family gathered at El Torito for dinner. With so many little kids, any family gathering borders on chaos and the restaurant had the good sense to seat us in a semi-private area. A good time was had by all, but our sleep suffered from eating so much Mexican food late at night.
Santa Paula is near sea-level and our workouts are much, much easier than they were in the thin air of Carson City. In just a few days, we are back to our normal times and distances and there is an added bonus of running on gentle grades. The warm sunshine and soft breeze is perfect for a morning run.
Jeanne got to spend a lot of time with her new granddaughter Erica, who is now almost five months old. The baby is healthy in all respects and is now easily three times her birth weight. If I gained weight that fast, I would weigh 500 pounds by October!
As much as we enjoy the family, we are looking forward to getting back on the road to look for a place to live. To that end, Jeanne worked out our travel schedule for the next two months. We are scheduled for a mid-May Monaco rally in Texas, which will be our first Monaco rally. (Monaco is the manufacturer of our coach.) I'm looking forward to comparing notes with other Monaco owners.