We woke to blustery weather; the rain had let up for the moment.
It was early Tuesday morning and we decided this was the opportunity to get to the mall and return some Christmas shirts Santa dropped off but were too big. We got to the mall, returned the shirts and bought a few things we needed. Just about the time we were leaving the mall, cars started pouring into the parking lot from all directions. Whew! We just missed the rush.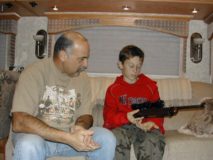 After running some errands, we picked up Ryan, one of the grandsons, who would be spending the night with us. Weather permitting, Ryan and I would go shooting the next morning.
Ryan had the same dinner choices (McDonalds, Taco Bell, Burger King or Round Table Pizza) and opted for Round Table. We ordered a large so there would be cold pizza leftovers for later that evening.
It stormed all evening and into the night. We passed the time watching "Elf" again followed by "School of Rock". Ryan received instruction on firearm safety and proper handling of the .22 rifle. He did well because he had watched the NRA firearm safety video at least six times and his father had tested him with pop-quizzes. Before we knew it, it was 10:00 and we were tired. Shortly after getting into the cammo sleeping bag, Ryan was sound asleep.