We woke expecting hear the patter of rain on the coach, but all we got was silence. A quick check of the Weather Channel showed the expected rain has been delayed a day or so.
There is more to this than you would expect. We regularly watch the weather report and try to plan our travel days accordingly. After that terrible storm in Ozona, Texas, we usually opt to sit out bad weather. But when weather disrupts our plans the burden of schedule change falls on Jeanne. This time it was not too bad and Jeanne was able to switch thing around with a few phone calls.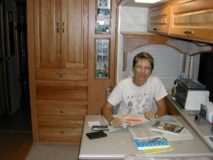 This whole weather thing is new to us. Aside from traffic issues, weather is not a big deal when living in the city. Your permanent residence is cemented to the ground, drainage systems usually work and you spend the day in a climate controlled building. There were times when terrible storms passed by unnoticed while I was sitting in some windowless meeting room trying to stay awake. But things are different now and a sudden change in weather can rip off an awning, flood a poorly drained campsite or turn a nature walk into a survival challenge. Bottom line: Sunny days are good, anything else is bad. Now I know why farmers obsess about the weather.
After lunch, we drove to the Walmart Supercenter in Durant to pick up some groceries. Returning to the coach, we spent the rest of the afternoon taking walks, visiting with some of the locals, reading and working on the computer. We grilled some chicken for dinner.
Our quiet evening was interrupted by a phone call! Nobody calls us anymore! It turned out to be Bob and Phil, two friends from the club that are camped in Albuquerque, New Mexico for the balloon festival. There had been an outside chance we would be there, but by the time we got around to making plans, the place was booked solid. It was good hearing from them and we pledged to connect when we are in Southern California.
Phil mentioned our e-mail boxes were full and there is no doubt they are. We have not had an internet connection in about two weeks and there must be over 500 e-mails waiting for us. It really is annoying sifting through all the e-junk to pick out the few legitimate messages. We also have not updated this web site in several days. However, good readers, your patience is appreciated and we will do the best we can.
The rest of the evening was spent quietly watching TV before going to bed.
Maybe it will rain tomorrow.