After a late start, we got together with Jim and Patty again and headed for Fernadina Beach, which is near the Walmart with Patty works. We quickly toured the town and went for a quick walk along the beach before stopping to check out some of the new residential construction projects in the area.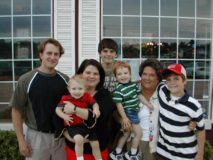 On our way back, we stopped in St. Mary's to visit with Jeanne's Aunt Audrey, who ended up hosting a dinner at the local Sonny's BBQ. Her grandsons Jackson and Josh went with us and Heather, Craig, Tristan and Dylan joined us at the restaurant. We visited over a delicious meal and a good time was had by all.
Afterwards we visited with Jim and Patty at their home before heading for the coach to prepare for the short drive to Savannah.