We finally pulled ourselves out of bed early to do the workout before sunrise. If we wait too long, we broil. There aren't good roads to run on here, so we stayed in the campground. Fortunately, the roads are well maintained and the surface is that same gravely stuff the high school track was made of. Using my GPS, it was exactly 1/3 mile around; the owners couldn't have laid it out any better if they had tried. As it turned out, it was a little hot and humid and we had to cut the run short.
After cleaning up and a quick breakfast, we headed to Marble Falls to update the computers, have some lunch and pick up a few things at the H-E-B. The town was much the same as we remembered it, but a little busier. Maybe the activity was due to the upcoming Memorial Day weekend. We took care of business and headed back to the coach, where we would meet Leo and Grace who came down from Fort Worth for the day.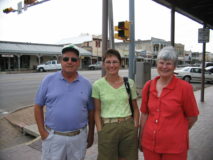 It turned out we got back just in time; they pulled up just as we were putting away the last of the groceries. After visiting a few minutes, we headed to Johnson City for a light lunch. We last saw them in Fort Worth just as their house was being completed in the rural town of Cleburne, Texas. They are now living in their new house and enjoying life. Leo recently retired and we compared notes on that life-changing experience. Making the transition from a fast-paced financial career to gentleman farmer has its challenges, but Leo has come to terms with it. I'm very happy to see he bagged it; he deserves a quiet life after a long, hectic career worrying about someone else's financial problems.
We spent the afternoon at the coach before we headed to Fredericksburg for dinner. After strolling up and down the main drag, we headed to one of the German restaurants. The meal was excellent. In fact, it was a perfect day of good friends, good times, good food and good weather. We talked late into the night over dessert and coffee before Leo and Grace headed to the Best Western in Johnson City.
A good time was had by all.