Jeanne had scheduled two short driving days for the trip from Erie, Pennsylvania to Dayton, Ohio.
The first day we woke early to a light drizzle. Although the weather was marginal, we resolved to complete our workout. After splashing around the campground, a quick shower and preparing the coach for travel, we barely squeezed out of the campsite. Later in the day, we noticed some scratches along the side of the coach and concluded they were from maneuvering in the Erie, KOA. Bottom line, if you drive a large RV, stay away from the Erie, KOA.
By the time we hit the road the light drizzle had turned to rain. Travel conditions were bad and the drive was gruesomely slow. Making matters worse, the Ohio speed limit for trucks is 55 mph and the state police are enthusiastic about enforcement. You notice trucks immediately slow down when they cross the state line. Jeanne remarked the roads were so bad that we couldn't go much faster anyway. However, the combination of conditions made the miles roll by at glacial velocity.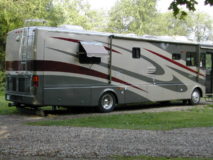 Our destination was near the small town of Butler, Ohio. The campground was located several miles off the interstate in an area of farms and woodlands. Very picturesque. We almost had the whole place to ourselves. At night, it was perfectly quiet and darker than dark. We slept soundly.
The second day was easier. The rain had stopped and the closer to Columbus, Ohio we got (the state capitol), the better the roads were. What a coincidence. We bypassed Columbus and around 2:00 PM pulled into a very nice RV resort near Dayton, Ohio. After quickly setting up we got to some put-off chores.
It somehow seems strange that July is almost over and we have been on the road for six months. The year is slipping by and we are way behind where we thought we would be. The trip is still very enjoyable, but we frequently discuss the living potential of the places we visited. So far the perfect place has eluded us, so we'll just keep looking. There is still a lot of country to see before making a decision. So for now, the trip continues.
---
Contemporary note: Looking back, this six-month mark was about the time I finally started making the mental transition between work and retirement. Yes, cruising down the highway on a Tuesday morning was liberating but years of having every five minutes of your life scheduled is a hard thing to set aside. However, finally, the angst of the workplace began drifting into the past and for the first time in many years I was able to concentrate on something enjoyable for long periods of time. Jeanne had a head-start on the process and I am forever grateful for her understanding and patience.