The great meal and fine wines from the night before weighed heavily on our workout, but we eventually got through it. After cleaning up, we vowed never to pig out like that again.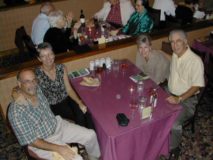 Most of the day slipped away hanging around the coach reading, listening to music and taking a nap. In the late afternoon, we met Faye and Don before going to a play at a small dinner theater in Rogers, Arkansas. The theater was in a turn-of-the-century building in the old downtown section of Rogers. Originally built as an elegant dinner theater, it had been converted for movies before TV and video rentals forced it to close. After many years, it reopened as a seedy flea market. Recently a group of local residents bought the building, restored it to its former glory as a dinner theater and established a trust to support the company. The theater is now mostly sell-supporting and a perfect example of community supported arts.
The production we saw was Harvey. The reader may remember the story as a movie staring James Stewart and his imaginary rabbit. After dinner and a bottle of wine, we settled in to enjoy the local talent. It had been a long time since we did anything like this and we thoroughly enjoyed the evening.