The weather these past three days has been cold and rainy. Although this prevented us from doing much outdoors, it did give us a chance to catch up on chores and take advantage of the washing machine and phone connection at DeeDee's house. We stumbled into a Fleet/Farm, which is a mega-store devoted to Guy Stuff. Real guy stuff like farm equipment, tools, construction equipment, hunting gear, generators, automotive, etc. Everything you would need to maintain a fleet of vehicles or run a farm. We managed to get out of the store for under $40.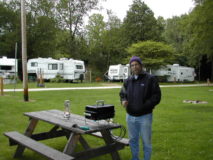 Exploring the campground, we found an old mill, silo, barn and farmhouse. Most interesting was a dam built to supply water to the mill. The dam had been destroyed long ago, but the connecting points to the shoreline are still intact. Whoever built these structures was both determined and persistent and we're glad to see they are being preserved by the property owners for their historic value.
Not far from the campground is a county park that includes a series of caves. We stopped by and found three guys excavating one of the caves by hand; one bucket of clay and rocks at a time. Here's the backstory: In the early 1900s, the caves were formed when lead was discovered and mined. The lead deposits were soon mined out, but the caves were perfect for bootleggers. Water and ingredients were readily available, the area was remote and Chicago was a huge potential market. No brainer. Eventually someone (either the County or the bootleggers) sealed up the caves. Fast forward to 2004 and some locals with the assistance of volunteers from the University of Wisconsin began to excavate the site. So far, no human bones were found.
While talking with the guys, I sampled the clay and found it to be perfect. It was relatively clean, plasticity was good, shrinkage seemed good and moisture content was about right. Coincidently, one of the guys was staying in our campground and offered to bring by a bucket of clay. This was an offer too good to be true! Sure enough, that night Kasey dropped off a bucket of clay and the stage was set for the great pottery experiment! The goal was to make some simple terra cotta (bisque) items using a campfire as a heat source. There was absolutely no hope of pulling this off, but it would be fun to try. The next day, I formed two bowls, an ashtray for Ed and Mary and some beads and trinkets. Getting this stuff dry enough to fire would be a challenge.