We woke early to do our workout. The run was along a country road shaded by trees. The run was easy until I realized it was all uphill back to the campground. What a struggle. After cleaning up we set out to visit Ann and Richard at their home in the Berkshires.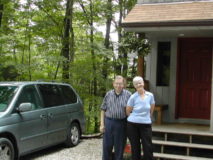 After a drive through beautiful countryside, we met Richard in the small town of Otis. Following Richard to his house, the roads got smaller and smaller until we were on a gravel country road. Their home is situated on a gentle hillside completely surrounded by tall trees. They had made many improvements to the property over the years and their home was cozy and functional. Ann prepared an excellent salmon lunch which we enjoyed among the trees on the porch.
We couldn't pass up their offer to show us around the area. First stop was a pottery studio where the potter uses a Japanese style kiln to fire his wares. What a character. We also stopped at Tanglewood, which is a venue dedicated to music and includes a really nice outdoor area for concerts. We very much enjoyed the day with Ann and Richard and look forward to seeing them again.
After saying goodbye, we returned to the coach to prepare for our trip to New York.