The trip to Vero Beach was uneventful.
We decided to stay off I-95 and opted for the Florida Turnpike. The road was smooth and traffic was light. It was worth the $8.80 in tolls.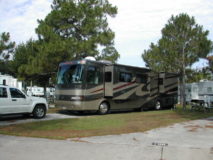 The campground was a little north of Vero Beach and wasn't convenient to town. However, the park had a huge sparkling pool that we put to good use. Although the water was heated to the temperature of molten lava, it was still refreshing after our workout and run.
Before going to bed, we FINALLY got some rain. It was one of those Finger-Of-God thunderstorms common to South Florida. The storm started with little warning, it poured buckets and then it was over as quickly as it began. I did get a chance to put up the awnings before the rain started, but running around waiving a steel rod with lightening striking all around is not a recommended practice.
Tomorrow is a very short drive and we plan to sleep late.