We woke a little later than usual. The day was clear, cool and perfect for traveling.
After breakfast, we got the coach ready for travel and said goodbye to our friends. It will be a long time before we see most of them again, although we may travel with a few during this next year. By 9:30, we were on the road.
Our destination was Cottonwood Cove, Nevada. We stayed there last year at the beginning of our trip shortly after we were chased out of Southern California by lack of reservations on President's Day. The place is remote and perfect for us to hide out for the next two weeks.
The route took us back into California along I-10. Right over the border, we headed north on US 95, which generally follows the Colorado River. This is some of the driest and hottest desert in the Southwest. It was so hot and remote, General Patton used this region for troop training during World War II. I'm sure there is still a lot of WWII equipment buried out here.
The drive was a little longer than we thought, about 200 miles. The California part of the drive was over marginal two-lane roads typical in the Golden State. Of course, crossing into Nevada the roads greatly improved. Most of the drive was right into a headwind and it was a good thing we fueled the coach in Blythe.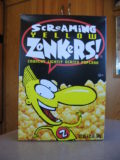 When we reached Searchlight, Nevada, the wind was howling and it was cold. Really cold. We tanked the coach at Terrible Herbst, the only sizable truck stop around and Jeanne bought six boxes of Screaming Yellow Zonkers, her favorite junk-food snack. This should last her about four days — Jeanne has no self-control when it comes to Zonkers. I have visions of Terrible's management trying to figure out why sales of Zonkers in Searchlight, Nevada spike in the winter. Maybe we'll give them a call to explain. What's the big deal about Zonkers? Jeanne really likes this stuff and they have been harder and harder to find over the years. In fact, the Terrible's in Searchlight is the only place we can find them. If anyone out there knows of another supply, let us know.
Cottonwood Cove is 14 miles due east from Searchlight — all downhill. About halfway down, the weather changed; the wind abated and the air warmed. The view was absolutely beautiful. We arrived, checked in and set up for a two week stay. This time of year the place is somewhat deserted and the few campers and employees present stopped by to talk. My hypothesis: Sociability is inversely proportional to the number of people around.
The rest of the evening was spent watching the news reports on the Iraqi election. What a relief that the Iraqis voted in large numbers. We hope they're on their way to a stable democratic government.