The weather is changing and the air was cool under slightly overcast skies. We had a leisurely breakfast before attacking the daily chores.
From time to time, the campgrounds we stayed at were not really set up for rigs as big as ours. Consequently, there were a few scratches along the sides of the coach from vegetation that should have been trimmed back. These battle scares are annoying and needed to be buffed out when the opportunity arose. Today was perfect for this chore. The combination of buffer and polish worked great and completely wiped out most of the scratches. The rest are barely visible; if you didn't know exactly where to look, you wouldn't see them. The front of the coach also got a generous coat of wax.
Jeanne cleaned the inside of the coach. By the time she was finished dusting, cleaning and vacuuming, the inside of the coach looked like the day we picked it up.
Late in the afternoon we stowed the equipment and relaxed. We now feel confident the coach is ready for another year of travel. In addition to being clean, all the little things we had been putting off have been fixed or addressed. All we need is to make a Walmart run to stock up on food, which is tomorrow's chore. We're ready.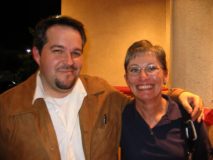 In the early evening, we had dinner with Robert, Jeanne's nephew. Robert and his family live in the area and Jeanne wanted to see him while we were here. We spent about two hours together talking and catching up on our lives. Robert seems to be doing well and is part of the community. It was good seeing him again and we very much enjoyed the visit.
Well, there is not a lot left to do here in Indio. A little grocery shopping tomorrow and we'll be ready to hit the road. We're looking forward to it.
We spent the rest of the evening updating the computers, reading and watching TV.