The story begins in August, 1998. Jeanne was working for the California State Compensation Insurance Fund and would soon be eligible for retirement. I was working for the Seagram Beverage Company (SBC) at the Western Regional Office. We were living a quiet life in Van Nuys and my mother was living close by in the house that had been her residence since 1955.
In the early 1990s my (Marty's) mother had been treated for lymphoma and forced into retirement. In 1998, she was living a relatively independent life, but the return of lymphoma was always a concern. With my brother living in Seattle, Jeanne and I were the only family Mom had in Southern California.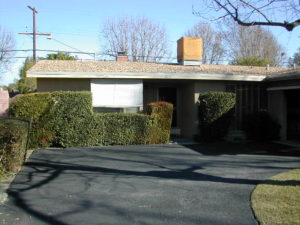 During this time the management of SBC had been squeezing costs from the business for about a year and open positions were not being filled. The CFO was considering a consolidation of financial functions and was feeling me out regarding a promotion and relocation to the headquarters office in New York. We were not thrilled with the prospect of moving to New York.
With major changes within SBC imminent and the possibility of relocation to New York, I began looking for other opportunities within Seagram. I applied for a general ledger manager position at the recently opened Shared Services Center in Delray Beach, Florida. After a series of interviews that stretched on for months, I was selected for the position and directed to report for work in early November 1998. Jeanne stayed in California until March 1999 to qualify for retirement, sell the house and coordinate the move.
As these decisions were being made, Jeanne and I tried to evaluate Mom's health situation. We knew that if Mom's cancer returned the burden of her health care would most likely fall on us. In the event of illness, we would either have to bring her to Florida or we would have to return to California. With the career decision pressing on us and no way to predict when the lymphoma would return, we decided to move to Florida and hope for Mom's continued good health.
After moving into our new home in June 1999, Mom arrived in Florida for a three week visit. We were alarmed at how much she had changed both physically and mentally. She seemed to be loosing her edge and we started discussing what to do if she became too ill to care for herself. However, at that time all we could do was continue to monitor her health.
About six months into the Florida assignment, managerial responsibility for the center passed from Seagram to Universal. It didn't take long to determine the skills and practices of the new management group were poor at best and many of the best employees began talking about leaving. Having just arrived, I decided to stay put for the next few months. Little did I know it was going to get ugly.
About a year into the assignment, Vivendi purchased Seagram/Universal. Eventually the general ledger department was asked to carve up the Seagram ledger, which was a clear indication that Seagram would be sold off in pieces to finance the deal. Seagram had no future and the stock price was dropping. It was time to head for the door.
There were several options including retirement, but with the uncertainty of how Mom's health would affect our future I decided to keep working and started interviewing. I was getting very close to finding work locally when an old boss (from my 7up days) called regarding an open Controller position at Fox Sports Net in California. As much as we enjoyed living in Florida, the Fox job was a great opportunity and would give us a chance to be close to my mother. We decided to return to California, but we would have to move fast. Once again Jeanne would remain behind long enough to wrap up affairs and sell the house.
Upon returning to California, I spent the first three months living with Mom. The regular schedule imposed by my job brought some structure to her life. However, when Jeanne arrived we rented a small apartment in West Los Angeles to be close to work and Mom was once again on her own. At least we were now close enough to manage her health care should the need arise.
In July 2002, the lymphoma returned. A series of chemo and radiation treatments put the cancer into remission, but the side effects hospitalized her for three weeks. Mom sort-of recovered and from the middle of December through the end on February 2003, she led a relatively normal life.
Starting in March 2003, the lymphoma turned aggressive. Initially the chemo seemed to work but as the treatments continued she became weaker and weaker. After a long hospitalization, it was obvious the chemo was too much for her and the doctors wrote the hospice order at the end of May. By the end of June she was gone.
After the funeral, we discussed what our next step would be. My contract expired at the end of November and a management change made me wary about staying. It was time to move on, but move on to what?
One thing was certain, we were determined to leave Los Angeles (specifically Van Nuys) for good.
For years we had prepared for retirement by developing several outside interests, many of which included outdoor activities. For about three years, we had been researching recreational vehicles (RVs) and attending RV shows. Jeanne had been extensively reading about the RV lifestyle. Eventually we hit on the idea of traveling full-time in an RV while looking for a place to live. In October 2003 we attended the RV show at the Pomona Fairgrounds and ordered a motorhome for delivery in January 2004. The long delivery would give us time to prepare and settle Mom's affairs, which included the cleanup and sale of her house.
So, in October 2003 the decision was made and everything about our lifestyle was about to change.